Hi Quilty Friends! I'm excited to share my Sunrise Quilt with the gorgeous Enchanted Meadow Fabric Collection designed by Beverly McCullough for Riley Blake Designs. Once I saw all the cute woodland animals - I knew this collection would need a quilt pattern with large blocks so the fabric would shine. My Sunrise Quilt Pattern is the perfect match!
I loved selecting two coordinating Enchanted Meadow prints for each Sunrise Quilt block. My favorite print is the Enchanted Meadows Forest Animals print...I absolutely love the cute critters. Plus I love that I can fussy cut the center of the Sunrise Blocks, which is perfect for focusing your favorite bits of fabric. Fussy Cutting Tips - on my blog here.
I chose to add a border to my Sunrise Quilt because I love love love the Enchanted Meadow Forest Animal print ... the deer, fox, rabbit, hedgehog, and florals are just too cute! Adding a border to your quilt is the perfect way to show your favorite print AND make your quilt larger for cuddling with!
Cut (8) 2.5" x WOF of binding fabric.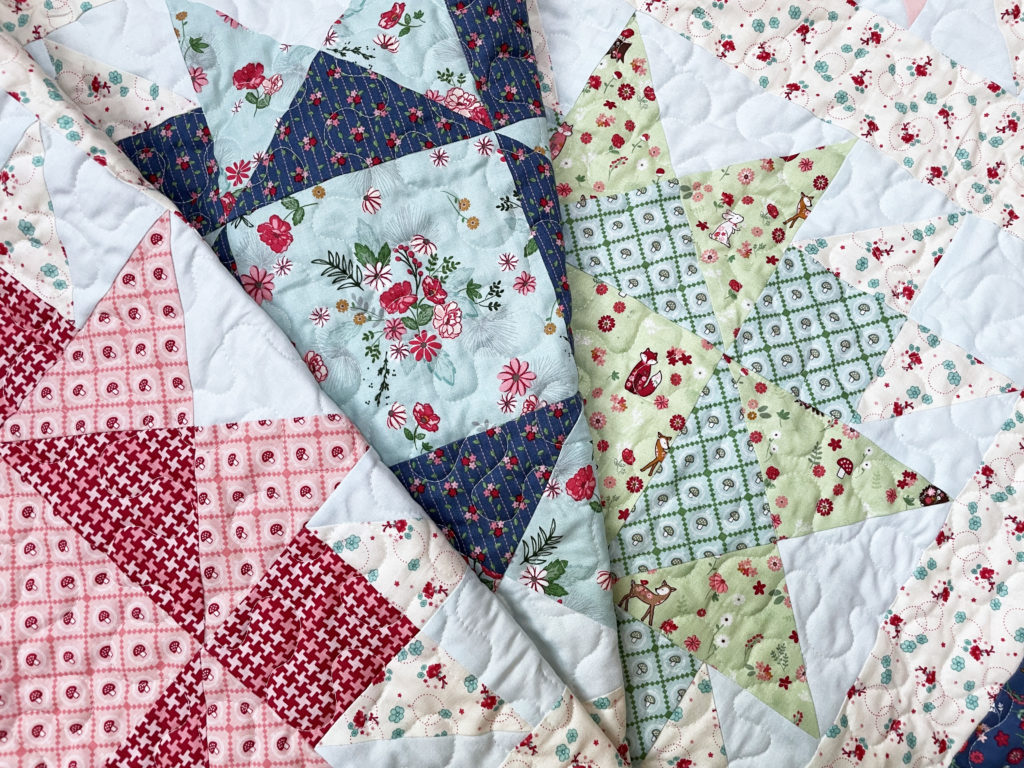 I'm definitely ready for spring as my Enchanted Meadow Sunrise Quilt is perfect for picnics!
Enchanted Meadow Fabric will be shipping to your favorite quilt shop in February (HERE)
Sunrise Quilt PDF Pattern - PayHip Pattern Shop or Etsy
Be sure to follow me on Instagram @ABitofScrapStuff and on my A Bit of Scrap Stuff Blog for more fabric fun!