Happy Halloween! I finished my Driving Me Batty Tablerunner just in time- yay!!! Seriously these bats are too cute - way cuter than my real life experience with a bat ;).

When I saw Fat Quarter Shop had The Spooky Box for sale - I quickly purchased it as their seasonal boxes sell out quickly! I love fabric and happy mail so it was a definite yes for me :). Plus I love decorating my home for holidays so I was hoping for something new to make!
I was so glad that the included fabric bundle was a mix of Riley Blake Designs collections: Fab-Boo-Lous, AND Cats, Bats, & Jacks, AND Blossom - it was perfect. I love non-spooky Halloween and this bundle was perfect! The awesome Drive Me Batty Pattern was exclusive to the box, but Fat Quarter Shop does have the fabric collections available: Fab-Boo-Lous, AND Cats, Bats, & Jacks, AND Blossom.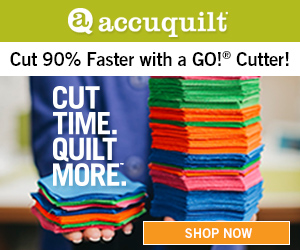 Seriously the fabrics are too spooky cute!!! The bats were super fun to piece too!!!
For the backing - I used some of my favorite Riley Blake Fab-Boo-Lous and Costume Maker's Ball prints for a fun scrappy backing - yay for sewing with scraps!
To make the Driving Me Batty Tablerunner - I made three not too spooky bats with tiny little blocks in the corner. It's a large tablerunner finishing at 13.5" x 60.5" - I love this size! Check out the included label that was included in The Spooky Box too!
Have a not too spooky Halloween!!!
Have a great day and happy sewing!

This post contains affiliate links. Thank you for supporting A Bit of Scrap Stuff. My family appreciates it!