It is Spelling Bee Saturday with Fat Quarter Shop and Lori Holt! I'm excited to be sharing letter M today. The M block was super easy to piece as Lori's patterns are always clear and well written. My M block finishes at 8.5" x 12.5" (there is a smaller size too at 4.5" x 6.5"). The Spelling Bee Book
has 26 letters (upper and lower case) in 2 sizes, plus punctuation, numbers, picture blocks, quilts, and mini quilts...it is amazing...more in a bit!
Let's get ready to start sewing M...
I chose to add borders to my M block to make it a 16" square. Next, I added a zippered backing so I can use it as a mini quilt or a pillow....I love having options!
For the quilting- I chose to make loops in the M and stipple the background...I love it. My goal this year is to try new quilting designs!
Sometimes sewing magic happens when using striped fabric for binding...perfectly matched mitered corner....what a happy surprise!
More about the fabulous Spelling Bee Book!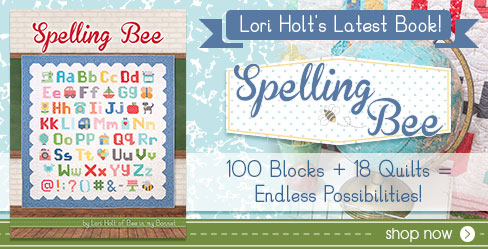 Go back to school with Lori Holt of Bee in my Bonnet's fourth book. Spelling Bee includes complete instructions for 100 letter, number, punctuation and picture blocks in two sizes (6" and 12") PLUS 18 quilt projects. There are over 190 pages of full color instructions, beautiful photos and general schoolhouse fun. Available here.

This post contains affiliate links to Fat Quarter Shop.