It's Spelling Bee Saturday with Fat Quarter Shop and Lori Holt! I'm excited to be starting off the Quilt Along with letter A. The block was super easy to piece as Lori's patterns are always clear and well written. My A block finishes at 8.5" x 12.5" (there is a smaller size too at 4.5" x 6.5"). The Spelling Bee Book has 26 letters (upper and lower case) in 2 sizes, plus punctuation, numbers, picture blocks, quilts, and mini quilts...it is amazing...more in a bit!
Let's get ready to start off with A
I decided to add borders to my A block to make it a 16" square so I could make it a mini quilt and/or pillow! I couldn't decide if my daughter would like a pillow for her bed or to hang on her wall as a mini quilt! A zippered backing....will let her choose and change her mind ;)
More about the fabulous Spelling Bee Book!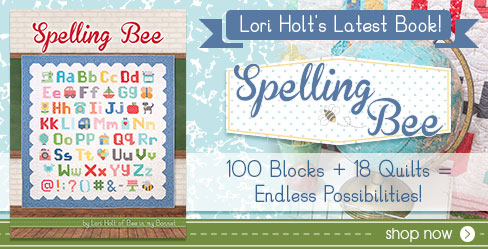 Go back to school with Lori Holt of Bee in my Bonnet's fourth book. Spelling Bee includes complete instructions for 100 letter, number, punctuation and picture blocks in two sizes (6" and 12") PLUS 18 quilt projects. There are over 190 pages of full color instructions, beautiful photos and general schoolhouse fun. Video below
Be sure to order your copy of the Spelling Bee Book to sew along with us. The Spelling Bee Quilt Along is 44 weeks long (2 blocks per week)...so lots of time to sew!
Schedule below....