Today I want to share a super simple and sweet baby quilt that you can make in just a few hours! I love being able to give a handmade gift to the new parents of a sweet baby! Plus babies on quilts is just the cutest!

My nephew and his wife are expecting their first baby this month - a little boy! I was fortunate to receive the soon to be released collection: Joey by Deena Rutter for Riley Blake Designs. The sweet koalas, sloths, text, and prints are perfect for a baby boy- plus I love the colors!
The most difficult part of this Striped Baby Quilt is choosing which fabrics to pick!
This quilt is perfect for large prints too- so choose your favorite!
Let's make The Striped Baby Quilt
- finished size 40" x 51"
Supplies:
(6) 1/4 yard cuts (9" x WOF). I used Joey by Deena Rutter for Riley Blake Designs
1/2 yard binding fabric
1.75 yard backing
OPTIONAL
- but totally cute
AccuQuilt GO! Care Free Alphabet
I'll share how I personalized my quilt in a bit.

Cutting:
Measure your 1/4 yard cuts and cut to a consistent size by WOF. Example 9" x WOF or 8.5" x WOF - it may vary based on how straight the fabric store cut your fabric or if you have straighten the fabric to match a pattern.

Cut (5) 2.5" x WOF strips for binding
Using a 1/4" seam, sew each strip of fabric together in the desired layout. 5 seams and you are done sewing the quilt top - yay! Quilt Top measures WOF x 51.5"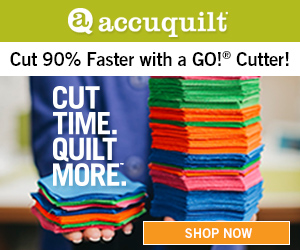 Time to trim up the quilt top. You will trim the quilt sides based on the size of your backing fabric. Measure the width of your backing fabric. Trim quilt top sides based on how much extra backing fabric you need to finish your quilt. Example: I quilt on a domestic machine - so I only need 1-2" buffer/border on all four sides for my backing fabric. The width of my backing fabric was 44". So I trimmed the sides of my quilt to 40". If you are having your quilt finished on a long arm machine - you will probably have to trim more off (your quilt will be more narrow).

Quilt as desired. I chose to stipple my quilt

Look at those sweet koalas on my backing fabric - love!
Use your favorite binding method. I love to machine bind all of my quilts.
I loved sewing this sweet and simple Striped Baby Quilt with the Joey fabric! It really is so adorable and has such sweet prints and colors. I really wanted to use them all, but then it wouldn't really have been a simple quilt ;)
I can't wait to gift this quilt to my nephew and his wife! But I'm most excited for the baby snuggles - I miss my babies as newborns. Well - maybe just a bit as I really like sleeping all night now ;).
If you make a Striped Baby Quilt - be sure to tag me as I would love to see it!!!

This post contains affiliate links. Thank you for supporting A Bit of Scrap Stuff Blog! I appreciate it!